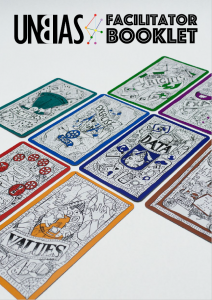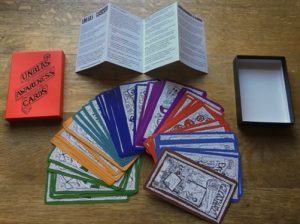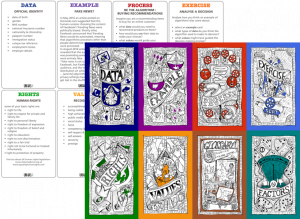 One of the outputs from the UnBias Youth Juries and the UnBias project overall was a 'Fairness Toolkit', developed with Giles Lane and his team at Proboscis, with the input of young people and stakeholders. It aims to promote awareness and stimulate a public civic dialogue about how algorithms shape online experiences.
One aspect of this toolkit is a set of Awareness Cards. You can download a printable cards set & leaflet (zip archive 993Kb) or purchase your own print on demand deck of cards. Using an Impact Exploration Grant, we were able to test these cards with a broad range of users, co-creating with them a series of games designed to be both fun and educational. These games have been written up in a booklet aimed at others who might want to facilitate sessions using the cards. The UnBias Awareness Cards Facilitator Booklet is free to download and use – perhaps as part of a Youth Jury session. We would love to hear what you do with the cards and any other aspect of the Toolkit!
All other components of the Toolkit are also freely available to download and print under Creative Commons license (CC BY-NC-SA 4.0).